Support a Woman - Gift a Mom
March is Women's History Month- May is Mothers Day - How to support women in business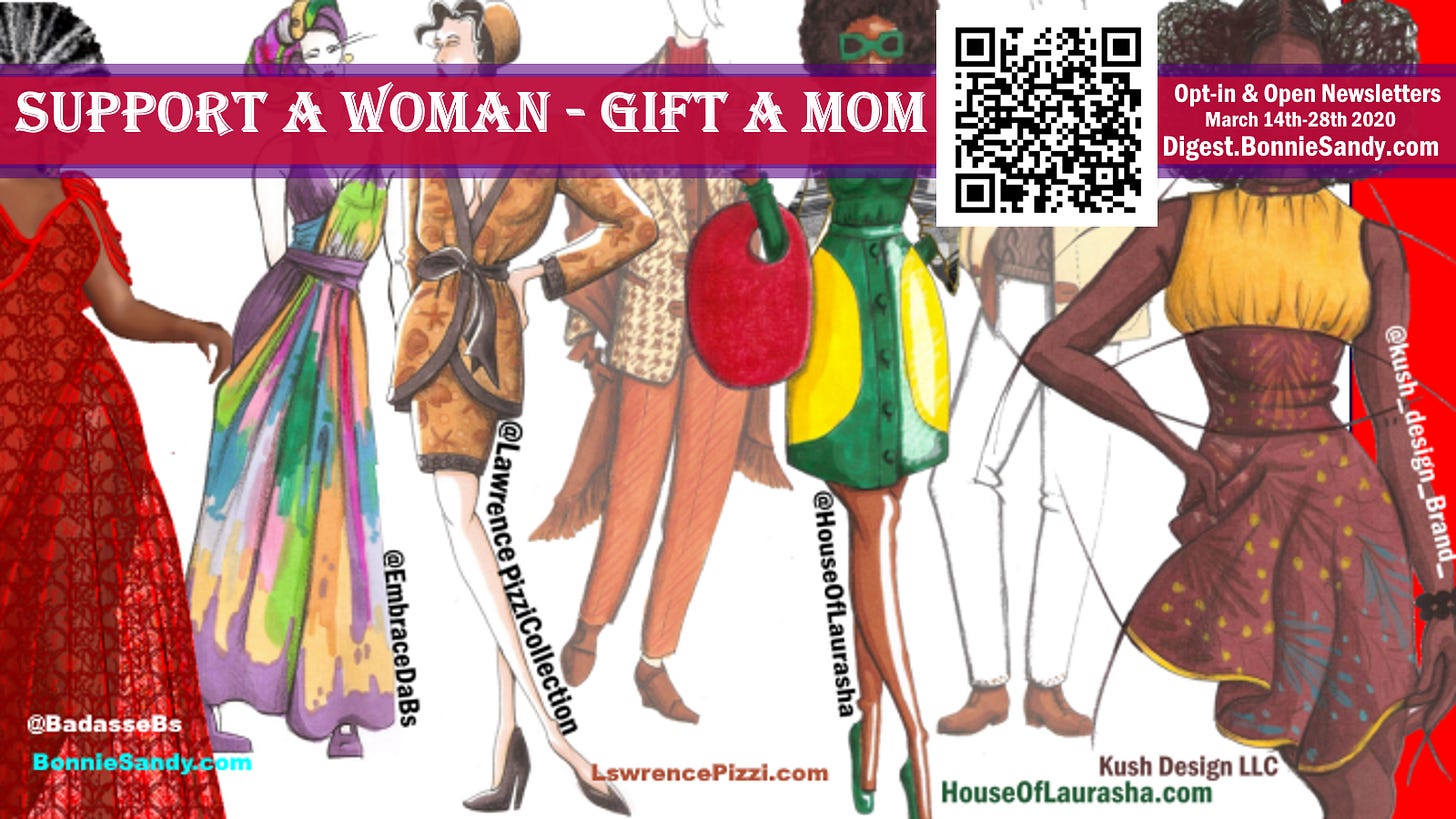 March is women's month and from March 14th - 28th 2020, we'll send you info on Giveaways, Freebies and Incentives! These will arrive in time for Mothers Day to Gift to MOM! The above image is a peak into some of the designers… yes you heard me DESIGNERS!
You'll need to OPEN the emails, check out the offers, optin to access them! You will get to know products from local businesses! Yes, you will need to opt in to each offer but Its time to put some FUN back into marketing- so we're maing an effort to make these special!

… and did I mention

GIVEAWAYS FREEBIES & INCENTIVES
We've organised a group of folks- small busiensses, who have great product but by themselves are limited in their marketing reach. Each month we'll be focused on a theme. During March its Women's month… For
April its' our them is AnURBAN SAFARI and we'll have even more sponsors and Participants !

MAY- Mothers day, the launch of SUMMER in the city where we'll spend some time focusing on DAD

JUNE is Fathers Day but we'll still keep an eye out on summer fun and get you ready for July 4th weeken!

FEEL FREE TO REPLY TO THIS EMAIL IF YOU WANT TO JOIN IN

HOW TO SUPPORT YOUR LOCAL SMALL BUSINESS
OFFLINE
SHOP & TAKE A FRIEND OR A GROUP TO SHOP- seriously love, like, hearts shares are all cool but just one or two purchases a year can really help!

TALK to them about what you are looking for.

INVITE them to present at your functions

POST in your bulletins, or organizations material

RECOMMEND- DONATE your small talk to a local business

Scan the qr code on Fliers & product tags to bookmark info!

ONLINE
SHOP- seriously love, like, hearts shares are all cool but just one or two purchases a year can really help

POST (a review, pic, an experience, a post from THEIR social meda profile, page in your social media groups your personal stream!

RECOMMEND- DONATE your small talk to a local business

REVIEW- it really does not ned to COST to support!

SHARE

SHARE- forward this post to your friends who you know would love it! Share on your social media feel free to repost with credit and with your we love dicussion pros and cons views! Remeber to check our archives

JOIN the newsletter! If you were forwrded this post then
FOLLOW THROUGH on your opt-ins
CHECK YOUR SPAM- and remove emails you WANT to see to your safe box. Add the sender's email to you contact folder.

TALK TO THEM/US- a word of encouragement telling them what you like and do not like helps them better serve you! if you do not see like or

UNSUBSCRIBE- Yes you heard me right unsubscribing makes successful communication easier, cleans up yur email hub so you are more likely to see the notices you really want to- Our unsubscribe link is at the bottom of teh email… please remove when your forward… I have "accidently" ben remove from some f my fav newsletter when folks mistakingly unsubscribe.
Look out for tips on supporting YOUR Female family and friends in Business
---
About This Digest - it's specifically for supporting Local Businesses Globally by presenting consumer education, product notices . That info is sent only to those who Opt-in so make sure you confirm your subscripton and add us to your safelist.

About ME- Bonnie Sandy [@Badassebs] - I create product, service and programs that enable those who are Gifted, talented and/or highly skilled, "ideate" and bring their unique ideas to market in a controlled scaled process by transitioning them first to an understanding of their business model while developing profit strategy and creating sustainable earnings, then scaling to their desired market position. As a trained designer with a technology background and over 30 years in creative industrialism. The Program I am introducing not only leverages technology to economically impact local communities globally but focuses beyond the "what should be done", to the "how best to do". I bringing together traditional. and cultural cottage techniques with innovative approaches to technology adoption in product development and revenue generation. I'm very open about my process if you'd like to learn a bit more sign up to discover how my process and program can benefit your success….  
Reply to email with questions comments or to join or montthly marketing and giveaways.